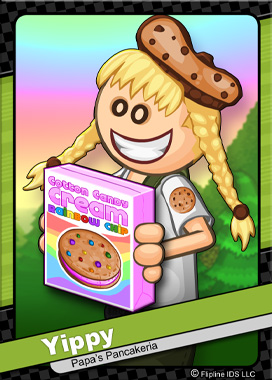 Yippy is a blonde, 8-year old girl from the Cookie Scouts Team who made her debut in Papa's Pancakeria. She is the youngest character in the series and the third shortest character, Her full name is "Yolanda Adora "Yippy" Wheeler".
Her breakfast - Chocolate chips pancake, powdered sugar, 1x butter, chocolate chips pancake, powdered sugar, 1x butter. Drink: Large Milk with Cocoa
Her wings - 3 Honey Mustard Strips, 3 BBQ Boneless Wings, 6 French Fries, Awesome Sauce Dip
Her hot dog - Regular Bun, Hot Dog, Ketchup, Mustard, Pineapple Relish, Pickle. Small Tangerine Pop (Lemon Mist if locked, Fizzo if Lemon Mist is locked). Popcorn: Large Candy Jack
Ad blocker interference detected!
Wikia is a free-to-use site that makes money from advertising. We have a modified experience for viewers using ad blockers

Wikia is not accessible if you've made further modifications. Remove the custom ad blocker rule(s) and the page will load as expected.