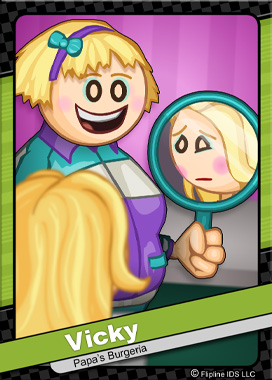 Vicky is a pale blond woman. She's one of three obese female character with Olga and Bertha. She works with her daughter, Mindy at the beauty salon across from the Pizzeria.
Her taco: soft, beef,sour cream, pinto beans, onion, lettuce.
Her meal: 3 pancakes with blueberry mix, strawberries, bananas and blueberry syrup. Drink: Tea in large cup with sugar.
Her sundae: medium sherbet sundae with pineapple, smooth blend, whipped cream, blueberry sauce, tropical charms, and a cherry in the middle
Her Full Name Is "Dr.Victoria Josephine "Vicky" Milter"
Ad blocker interference detected!
Wikia is a free-to-use site that makes money from advertising. We have a modified experience for viewers using ad blockers

Wikia is not accessible if you've made further modifications. Remove the custom ad blocker rule(s) and the page will load as expected.