Sienna debuted in Papa's Pastaria.  She seems to like fall colors, judging by her outfit.  Her favorite holiday is Thanksgiving, which is in fall.
Appearance
Edit
Sienna has brown, curly hair.   She wears an orange sweater and a brown, plad skirt.  If you look closely at her face, you'll see that she has freckles.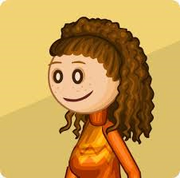 Ad blocker interference detected!
Wikia is a free-to-use site that makes money from advertising. We have a modified experience for viewers using ad blockers

Wikia is not accessible if you've made further modifications. Remove the custom ad blocker rule(s) and the page will load as expected.