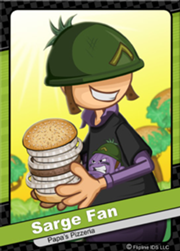 Sarge Fan! is a mischievous customer who is obsessed with Sarge. With the help of his mother, Quinn, he had his name legally changed into [[Sarge Fan!]]. When he heard of the Freezeria opening up, he personally petitioned to have his favorite candy, the gummy onions on the menu. He alongside Little Edoardo, Rico and Georgito are the only non-closers who were disqualified from the Papa's Next Chefs Tournament. His full name is Joseph Michael "Joey/ Sarge Fan!" Toplaw.
Ad blocker interference detected!
Wikia is a free-to-use site that makes money from advertising. We have a modified experience for viewers using ad blockers

Wikia is not accessible if you've made further modifications. Remove the custom ad blocker rule(s) and the page will load as expected.