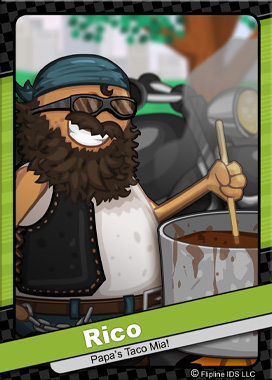 Rico was a closer in the Taco Mia before he chilled out a little. He is appaprently a huge fan of chili, and someday dreams of opening "Rico's Chiliria" In Papa's Freezeria, He is no longer a closer. Because Kahuna tooks your place. His full name is Rowdy Rico. 
Upcoming Games:
Edit
Papa Louie 20:When Chili Attacks
Zoe daughter
Ad blocker interference detected!
Wikia is a free-to-use site that makes money from advertising. We have a modified experience for viewers using ad blockers

Wikia is not accessible if you've made further modifications. Remove the custom ad blocker rule(s) and the page will load as expected.