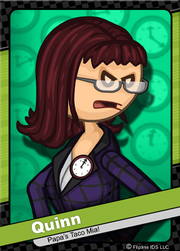 Quinn
is one of the top lawyers in Tastyville. Unfortunatly, she is very cranky, having been a closer since her debut. Her law firm was originally called Quinn, Timm, and associates, until 
Timm
 quit. It is now called "Just Quinn and associates" after her longtime partner abruptly left.She is 45 year old.
Fojikiro(Son)
Franco(Husband)
Papa Louie(Step Younger Brother)
Wally(Father)
Edna(Mother)
Xolo(Nephew)
Xandra(Nephew)
She debuted in the Taco Mia
Along with Jojo, she is a permanent closer, she can never be a regular customer
Her watch has become her trademark
Ad blocker interference detected!
Wikia is a free-to-use site that makes money from advertising. We have a modified experience for viewers using ad blockers

Wikia is not accessible if you've made further modifications. Remove the custom ad blocker rule(s) and the page will load as expected.