Professor Fitz
Edit
Professor Fitz é um cientista / professor que estreou como mais próximo em Wingeria Papa. Ele substitui Hank que recame um cliente regular. Em Hot Doggeria do Papa, ele não é mais um mais perto, já que Kenji tomou o seu lugar.
Aparência
Edit
Professor Fitz tem cabelos grisalhos com uma barba grisalha e sobrancelhas grossas. Ele veste um jaleco branco com uma camisa preta luvas verdes, e uma gravata verde. Ele usa óculos verdes.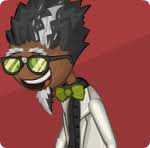 Ad blocker interference detected!
Wikia is a free-to-use site that makes money from advertising. We have a modified experience for viewers using ad blockers

Wikia is not accessible if you've made further modifications. Remove the custom ad blocker rule(s) and the page will load as expected.