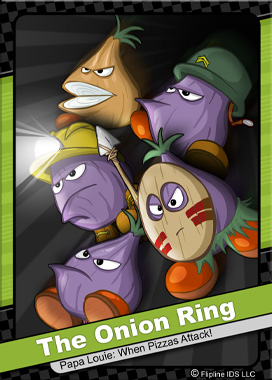 The Infamous Onion Ring is a gang of menacing onions who take direct orders from their leader, Sarge. They have a diverse range of skills amongst their ranks. Whether it's wall crawling, ladder climbing, running, jumping or sneak attacks, these onions have what it takes to fend off even the feistiest of chefs.
Ad blocker interference detected!
Wikia is a free-to-use site that makes money from advertising. We have a modified experience for viewers using ad blockers

Wikia is not accessible if you've made further modifications. Remove the custom ad blocker rule(s) and the page will load as expected.