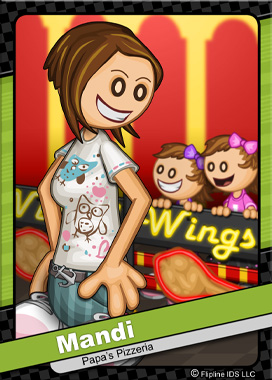 Mandi is a Caucasian woman with short brown hair and blonde highlights. She first appeared in Papa's Pizzeria (where she had long hair). It was confirmed that she is Tony's wife and thy had twin daughters. She is the first customer who arrived at Papa's Freezeeria. She was one of the chefs in the new Papa's Gameria with Chuck. Her full name is Mandi Solary. She work in Papa's Wingeria.
Chuck(coworker) 
Ad blocker interference detected!
Wikia is a free-to-use site that makes money from advertising. We have a modified experience for viewers using ad blockers

Wikia is not accessible if you've made further modifications. Remove the custom ad blocker rule(s) and the page will load as expected.