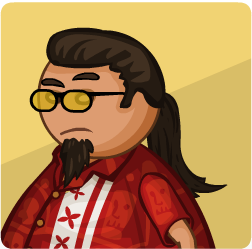 Kahuna
Is Not Chuck's Strict Boss and Georgito, Rico, Franco and Hugo's High Tempered Brother Kahuna Is Very Strict And Mean (To Chuck) He Is Rude To His Friend
Wendy
.
He debuted as a closer in Papa's Freezeria replacing Rico as a closer, and he is also a closer in Papa's Pancakeria.  He became a normal customer in Papa's Wingeria.  He made a return as a closer in Papa's Pastaria, in which he takes Trishna's place as a closer. He becomes a normal customer again in Papa's Donuteria, where he found Powder Point's amusement rides to be enjoyable, thus being mellowed out. He also got his teal tropical shirt and red pants at Powder Point.
Ad blocker interference detected!
Wikia is a free-to-use site that makes money from advertising. We have a modified experience for viewers using ad blockers

Wikia is not accessible if you've made further modifications. Remove the custom ad blocker rule(s) and the page will load as expected.