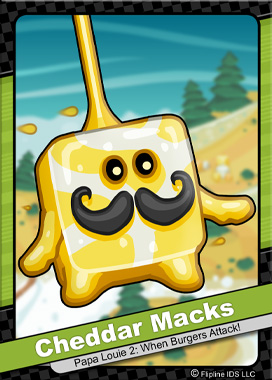 Cheddar Macks are stringy blocks of mustachioed cheese. They spend most of their days swinging carefree from overhangs and bridges. Numerous Cheddar Macks make their home along the gooey slopes of Mount Monterrey. They can be rather oblivious to others around them which makes navigating their territory quite hazardous.
Ad blocker interference detected!
Wikia is a free-to-use site that makes money from advertising. We have a modified experience for viewers using ad blockers

Wikia is not accessible if you've made further modifications. Remove the custom ad blocker rule(s) and the page will load as expected.