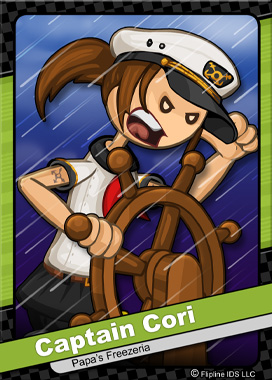 Captain Cori is SS Louie Captai female ship. It takes some tourists to travel. She first appeared in the Freezeria Papa as a closer. In Pancakeria the Pope, she became a client normal.Porque Ninjoy stole she place. She orders 12 shrimp in Wingeria. She was 33 years.
Ninjoy (niece)
Utah (daughter)
Nevada (duaghter)
Ad blocker interference detected!
Wikia is a free-to-use site that makes money from advertising. We have a modified experience for viewers using ad blockers

Wikia is not accessible if you've made further modifications. Remove the custom ad blocker rule(s) and the page will load as expected.